Creating a Valentine's Day door hanger using a tobacco basket not only adds a fun farmhouse touch to Valentine's Day decor, but it's also inexpensive and easy to put together. See the video tutorial here.
The best part–all of the supplies can be found at Walmart and Dollar General! Here's what you need:
Supplies
Decorative tobacco basket (Walmart, in the floral section)
Boxwood picks (Walmart, in the floral section)
Buffalo check wired ribbon (Big Lots, from Christmas)
Glitter foam hearts (Dollar General, sold in a pack of 4 on sticks)
Red yarn (Dollar General)
Glue gun and glue stick
Scissors and floral wire cutters
Directions
Cut the boxwood picks at the base and separate them into 4 smaller picks. Using hot glue and yarn, secure the picks to the top of the basket, curving them downward.
Remove the sticks from the glitter foam hearts. Poke a hole in the top of each heart.
Cut 4 pieces of red yarn at different lengths. Place a dot of hot glue inside the hole that you made on top of each heart and push one end of the yarn into the top of each heart.
Glue the other ends of the yarn to the top of the tobacco basket, in the center where the picks meet.
Using hot glue, attach a bow in the center, covering where the picks and the yarn meet.
Cut an additional piece of ribbon, make a loop with it, and glue the ends together. Attach it to the back of the tobacco basket for hanging.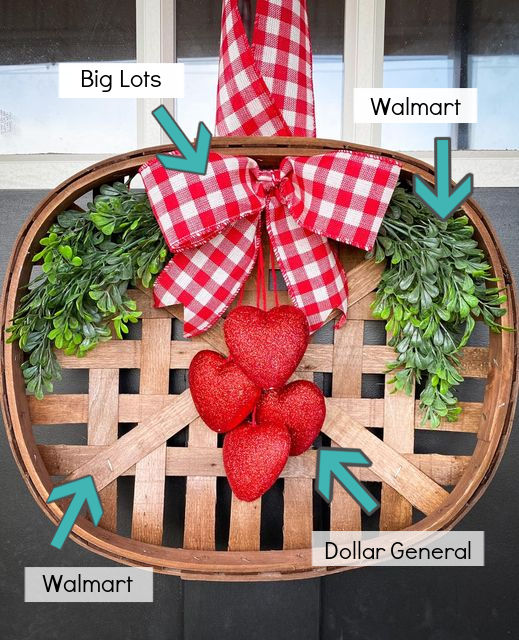 For a little extra guidance, check out the video tutorial!
Wasn't that easy? For more Valentine's Day ideas, check out the Seasonal Crafts page!