Welcome to Katie Drane Blog!
I'm Katie–wife, mom of 4, Autism mom, blogger, Mamaw-style home cook, crafter, budget decorator and herbal newbie.  Thank you so much for taking the time to visit. A few posts in, it will be pretty obvious that I'm a real person. My goal is and has always been to be transparent and to connect with you in a real way. That's why I share budget-friendly homestyle recipes, relatable home decor, and fun seasonal crafts that anyone can do.
Even though Katie Drane Blog was started in October 2019, I've actually been blogging for 8 years. My first blog, Fun Home Things was all about the things I loved about home–pretty similar to what I write about now. It began as a creative outlet, and I made some great friends and enjoyed a few features along the way (check this out. And this.) But I outgrew it and wanted to change course a little. So here we are!
I'm pretty proud of my family.
My husband Ryan and I live in Mayfield, Kentucky, with our 4 children, Sophie, Emmie, Jack, and Luke. We first met nearly 20 years ago while both attending Murray State University, just 20 minutes down the road. We went our separate ways, and in 2010, we reconnected through Facebook, started dating, and married in 2012. I felt called to be a SAHM and we were fortunate enough to be able to make that happen. I have never regretted that choice. We do a lot of things differently than our peers. In part because we're a big family, we're a special needs family, and I do a lot of things the old school way.
Also, I made an e-cookbook. Eeeeek.
Homestyle: 23 of My Favorite Crock Pot Recipes  has been 4 years in the making! Now that it's here, I am overwhelmed by how many people have reached out to me, saying that they enjoy these recipes as much as I do. They are from my personal cookbooks, the directions are straight-forward and the ingredients can be found at any grocery store. Two of my most popular recipes are even in here, BBQ Chuck Roast and Crock Pot Lasagna along with many others that you can't find on the blog. Check it out!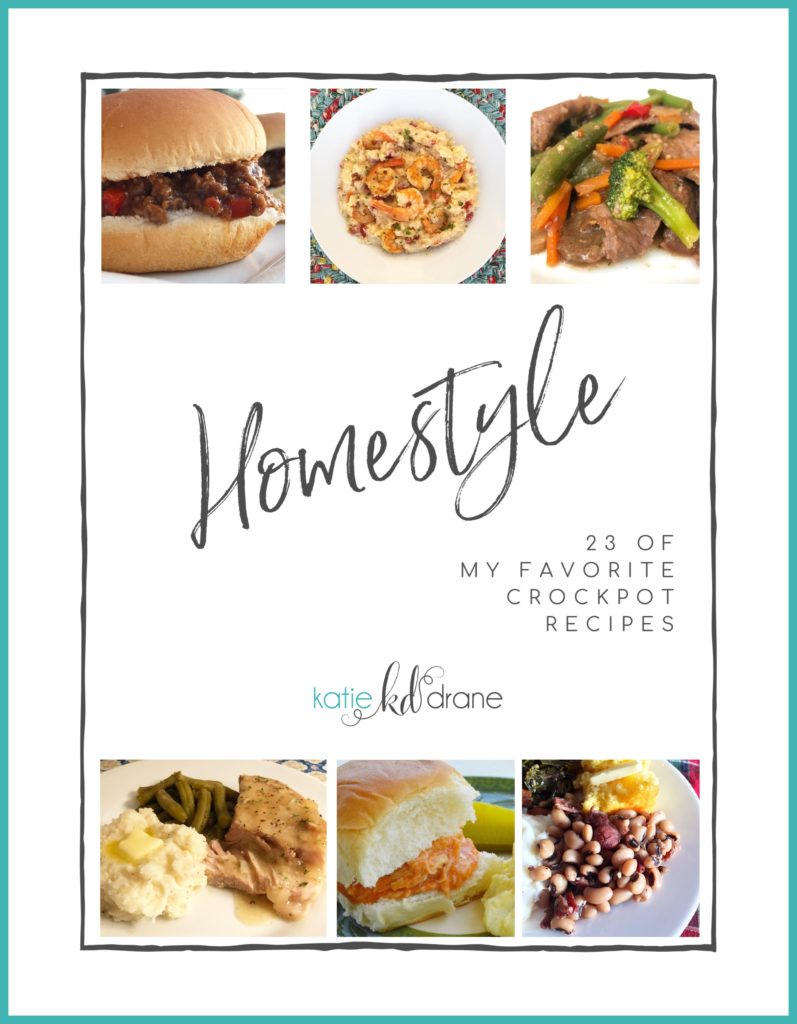 I'm so glad you're here! Media inquiries? Just want to reach out? Feel free to email me at katie at katiedrane (dot) com. Or you can always reach me on Facebook and Instagram!