Did you know you can actually make a picture frame wreath that can be changed for every season? That's right!  You don't have to be crafty, you don't have to spend a fortune on seasonal decor, and you don't have to make space for extra seasonal decor. One picture frame and you're good to go. I even shared the tutorial LIVE on Facebook. To view it, click here.
The trick to creating versatility is simple–3M Velcro strips. Check it out.
Front
After trimming down 2 small 3M strips, I glued them to the front of the frame (for extra strength). The decor goes here.
Back
On the top and in the middle is where I put the third 3M strip. Just like the first two, I glued this one down for extra support. This will be where the hanging ribbon is attached.
Decor
For fall, I chose a little tabletop scarecrow and small decorative pumpkins. For the pumpkins to lay flat, I cut them in half, stacked and glued 3 of them together, and attached a 3M strip to the back of the pumpkins.
The scarecrow was weighted and stuffed, so I removed the weight out of the back and glued it closed. Then I attached a 3M Velcro strip to the back of the scarecrow. The decor was ready to go on the frame.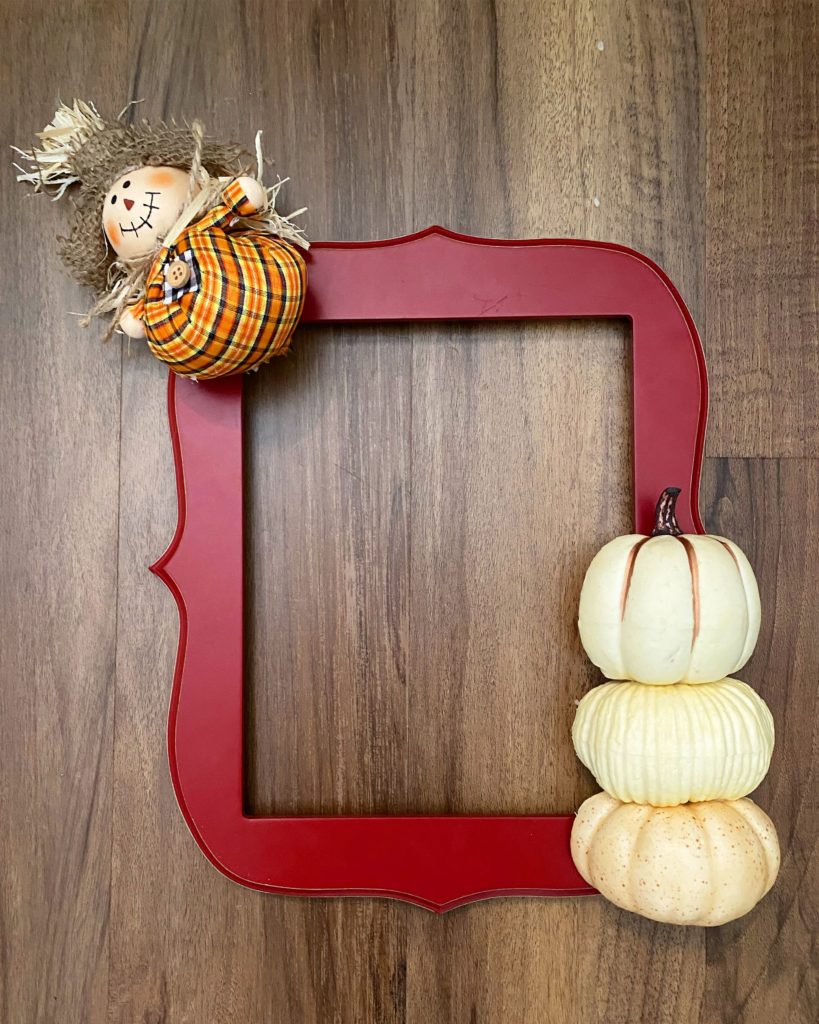 Inside
You can leave the glass inside the frame to protect pictures or artwork, or remove the glass for things like a canvas or 3D decor.
I chose to use a cute free fall printable from Sweet Maple Lane. I just downloaded it and printed it out. (Since the paper quality was cheap, I painted the back of the picture frame white so that the original brown color wouldn't show. The video demonstrates this much more clearly.
Hanging
Remember that 3M strip I put on the back of the frame? All that's left to do now is to create a loop with a piece of ribbon (about 10″), glue the ends, glue a 3M strip to the end, and attach it to the back.
Cute right? "But wait, I thought you said this could be used for different seasons."  It can. Check out how I switched out the decor and printable for winter:
I made this printable myself using PicMonkey (it's free to download on the Shop page), And I switched out the fall decor with winter!
Wasn't that easy? For more fall craft and decor ideas, be sure to check out the Seasonal and Holiday page.
If you missed Thursday Night LIVE on my Facebook page, you can watch the tutorial here: