There's nothing more welcoming than a pretty front porch, especially one that uses the beautiful colors of the season. Fall is my favorite season for porch decorating, mainly because nature does most of the work, I just add the textures and layers.  Of all the porch decor I have done over the years, this jewel-toned fall porch is, hands down, my favorite (the aqua and lime spring porch is a close second).
A few unique details really made the decor come to life. First, the vintage suitcase of mums.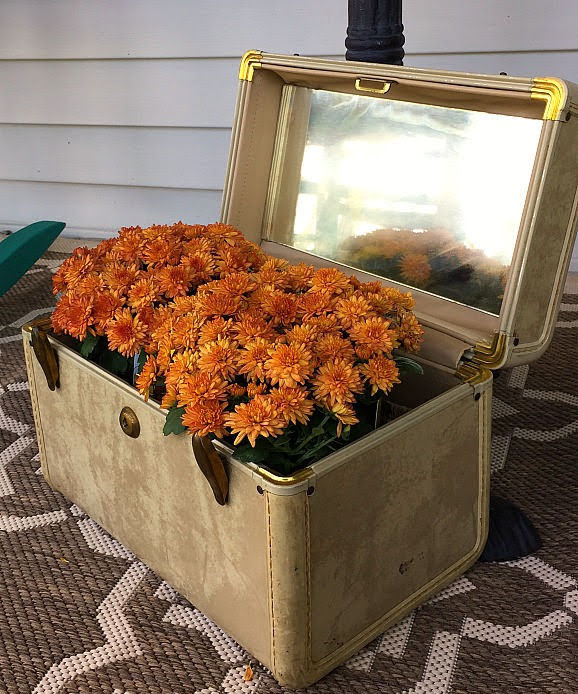 I found this little gem at Anything Goes Trading Company for $10! It was in pretty decent shape, so I didn't want to ruin the interior. But I still thought mums would look gorgeous in it! So I left the mums in their pots and placed them in the suitcase. It was the perfect compromise and the mums held up great in there.
Speaking of mums, I added more in a bushel basket next to this adorable table that I picked up at a thrift store. All it took was a coat of Annie Sloan Florence chalk paint to bring it back to life and fit in perfectly with the jewel tone decor. On top–layers of cozy decor. From a fall-filled lantern, to a pumpkin on top of vintage books, to a collection of mercury glass tealights.
Another piece of the porch that got a lot of attention was the tiered tray on the table, full of leaves and ceramic jewel-toned pumpkins I found at Hobby Lobby. That extra layer of color looked so gorgeous when we were walking up the front stairs. It was definitely a talking point for anyone who came to visit.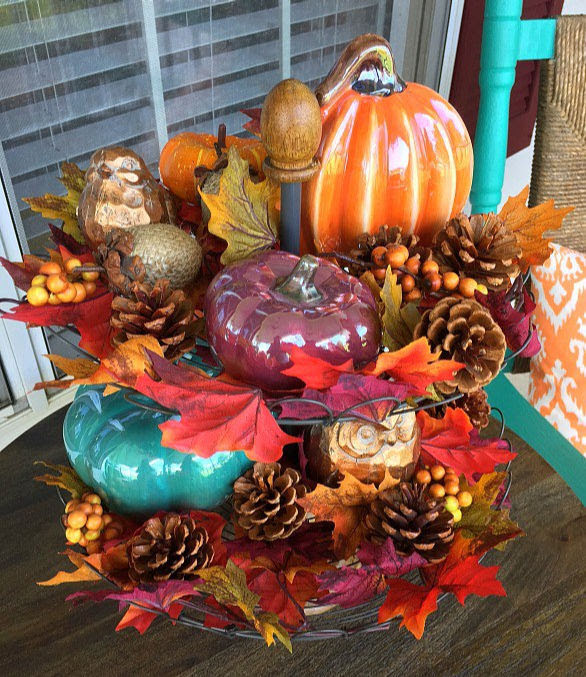 But my favorite part is captured in this picture.
The Annie Sloan Florence painted rocking chair, the salvaged door that I scored for $15 at Anything Goes here in town. And how about all that beautiful fall foliage around the door? That was a chance I took on a company I had never used before–Factory Direct Craft. I LOVE them. The maple leaf garland was perfect and added so much color and texture to the porch. The outdoor rug that I got at Kohl's added warmth to the space and made the porch a cozy and a place where we all wanted to hang out when the nights got cooler.
So what's your favorite part? And more importantly, do you decorate your porch, patio or deck for fall? I'd love to hear all about it in the comments!