Not all rooms need a complete overhaul. Sometimes just defining a purpose for a space is all you need to make it look totally different. For example, our mudroom.
It's such a cool little room. It has great storage, it was already painted the perfect color blue (Benjamin Moore Santorini Blue) and the closets were already made and painted to look like barn doors. The mudroom had great potential from the beginning, but like most homes, life happened.
It turned into the dumping ground for boxes, toys, mail. You get the idea. It was unfortunate. So one Saturday, I took everything out.
Purpose
Every space needs a purpose, and every belonging needs a place. I am TERRIBLE at this. We wanted this room to be welcoming, but also home to backpacks, coats, mail, as well as the family calendar and bulletin board that holds all of our reminders, bills…you name it. All of those things had been in our kitchen and living room before. We wanted it contained in one space.
Just a few hours of clearing everything out, cleaning and rearranging is really all it took to get exactly what I wanted. The dresser was passed down to me and is one of my favorite pieces of furniture. It not only adds some pretty to the room, but the deep drawers are great for storage. I didn't really have a place for it before, but it fits perfectly here.
The rug added just enough warmth and pattern without being impractical. Remember, this is the room we first enter so there needs to be some durability there. The best part–it was $13 at Dollar General.
Then over in the corner, between the back door and the door into the house is what my kids call "Mission Control". That is where the kids hang coats, hang backpacks, and take off shoes. It's also where important school papers go and the calendar gets updated. All of our stuff, all in one place, not scattered all over the house.
The Lamp
So hear me out. I have had that skinny $10 black torch lamp from Walmart since college (they're $27 now. I think that's hilarious). I'm pretty sure everyone owns or has owned that lamp at some point in their lives. It has been with me for 15 years, 4 states, and 4 moves. Was it aesthetically pleasing? Not really. Did it make the room pop? Absolutely not. But it worked. And HISTORY.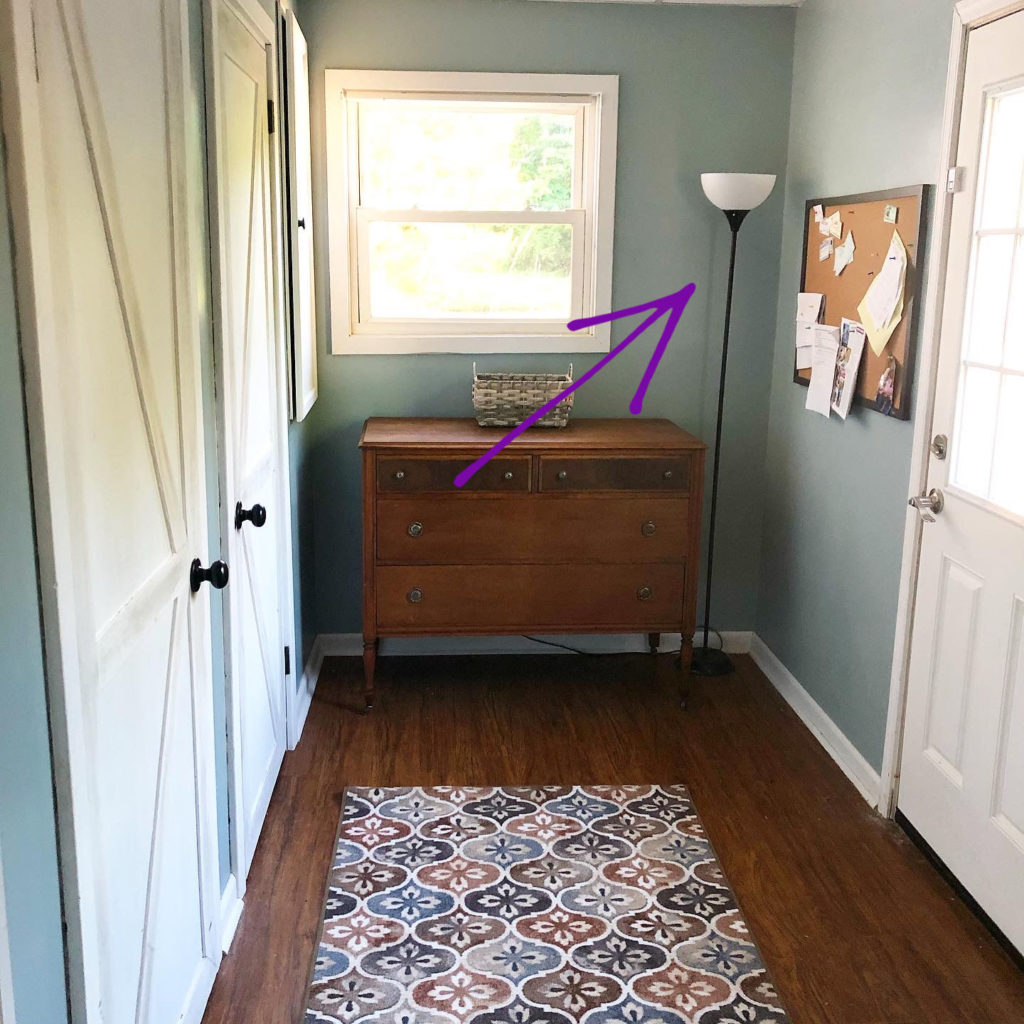 Well, Luke hated it. He knocked it over so many times that the lamp shade broke and so did the lamp itself. Not gonna lie, I was a little sad. But it's safe to say that I got my money's worth out of it, so there's that.
Aside from being on the lookout for a new lamp, the room is done and we LOVE it. It's so nice to walk into a pretty space. Do you have any mini room projects you need to tackle?